Want more $$$ in the bank? 
OK . . so I know the answer is YES!  (probably more like "Duh?  OF COURSE I DO!!!!) . . . .
This isn't a subject I write about very often, but it seems to be "up" this week so here we go.
Bear with me here, you're gonna have to do a little self-investigation in order to actually add the cash because it's all really about your money mindset.
I'd love to offer you a magic pill, or cash-generation system (perhaps a very "special" printer for the basement [wink-wink]) but I don't have one of those.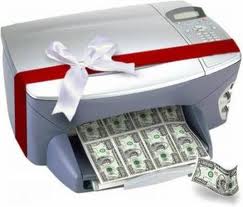 The 5 Questions
What I do have are 5 questions that will help you begin to change your Money Mindset – which is the starting place for any physical manifestation (aka "mo' money") can show up.
We all have our "Highest and Best Self" and can access Divine Wisdom if we choose to.  Today's article is going to give you an introduction to an aspect of you, I like to call your Inner Money Magician!
And don't poo-poo it before you try it.  Let's face it – you have nothing but more moolah to gain, so in the spirit of "What-The H-E-double-toothpicks", let's get started!
I suggest you grab a pen and paper or open up a doc on the computer to respond to these questions.  And just do it NOW.  Yeah I know you are busy and you don't have time, and you can't be bothered.  But if you REALLY want more money, then what better use of your time is there?
And you don't have to write a novel here . . . a few words, or 2-3 sentences that are the first thoughts that come to your mind is all that is necessary.
And yeah – you can do it in your head, but trust me, it gets into your subconscious WAY BETTER if you write it!
Ready?  COOL!  
Let's change your money mindset!
    Q1:  Write down the 3 words that FIRST COME TO YOUR MIND about money.  Don't judge 'em – just write 'em.  No one has to see this.  But if you wanna change your mindset, you gotta come clean with YOU!
   Q2:  If you had all the money you need to be EXTREMELY comfortable (including vacations, a decent car, nice house, etc) . . . what do you think would be the first 3 words that come to your mind?
    Q3:  Is there a difference In the words you used between Q1 and Q2?
   Q4:  Write down how you FEEL about the difference (if there is one).  Are you mad?  Happy? Frustrated?  Are you pissed off you are even bothering with this little exercise?
   Q5:  If you could wave a magic wand RIGHT NOW to change how you are feeling about money, what would FEELINGS would you change?   Remember – we are talking about your emotions and feelings – not the circumstances.  While it's tempting to want to wave the wand and see a few mill magically appear at your doorstep, that's an outside circumstance you do not have the power to control.  However, you ALWAYS have the power to control what you are THINKING and FEELING.
So to reframe Q5 —  if you ALREADY HAD a few million sitting in the bank, how do you think you would feel about money?
Interesting yes?
Did you come up with some answers that surprised you a bit?
Hopefully you answered YES!!!  Because, that means you have just become more conscious about how to improve your ability to receive more money.
Here are some of the ways you've ALREADY changed your money mindset by answering these questions (and if you haven't done the questions yet — what are you waiting for? ;-))
You showed you have the courage to see more Truth
You probably discovered some fears or beliefs that you may not have realized fully you had
You discovered you DO have an Inner Money Magician who helped you answer the "if you already had money" questions
You brought up some new ideas from your subconscious mind into your conscious mind which is where you have the power to make changes!
I'd say that's all pretty cool!  As one of my dear friends tells her clients:  "Consciousness precedes change!" 
You cannot change until you become aware!  So give yourself a HUGE pat on the back for taking the time, energy and effort to respond to this little questionnaire!  It's a GREAT start!
Your Mission For The Week:  Start noticing your thoughts about money this week without judgment or criticism.  That's a great first step.  Get to know Your Inner Money Magician a bit better!  Start up a dialogue!  Ask it to help you become more aware of your hidden beliefs about money! Take some notes!
Your Inner Money Magician is here to help you . . . and so am I! 🙂
Here's to your Pro$perity!