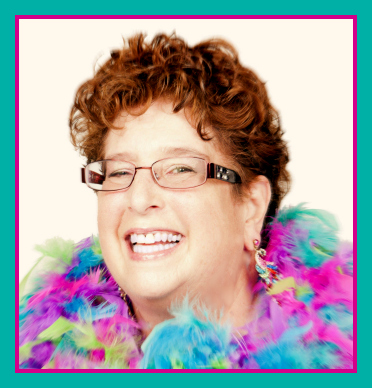 Stephanie Rainbow Bell  takes an unconventional approach to life.  She doesn't always color inside the lines, play by the rules, or even follow the letter of the law.
But she does always do her best to stick to her Core Values:
Be KIND
Be STRONG
Be POSITIVE
Be FORGIVING
Create PEACE and JOY everywhere possible
IN THE BEGINNING
From her earliest childhood memories, Stephanie felt "different" in an "I'm-not-good -enough" kind of way. In large part (pun intended) this was because she was a plump kid born into a family with a history of obesity on both sides who believed being fat was a very bad thing.  While her parents were well-meaning in wanting their daughter to be "normal",  the constant negative focus on her weight and size created an environment of shame which powerfully impacted Stephanie's physical and emotional development.
However, one thing that her parents were unable to impact was Stephanie's indomitable spirit to live THIS life as full-out as she could manage.  Stephanie's instinct for emotional survival kicked in big time and she creatively developed whatever skills were necessary to maintain her Spirit and inherent belief that tomorrow would be a better day.
Stephanie's will to be joyful and her quick bright mind carried her through a wild ride of experiences especially once she left home at 17 to marry the first boyfriend she ever had.  (She stayed married for 5 years so that no one could say she married too young!)  On the career front,  after deciding not to go to college (since her father insisted she would have to live at home if she did), Stephanie worked her way up the administrative support ladder from answering telephones and filing, to Secretary, Executive Assistant, Paralegal, Office Manager and ultimately Technology Manager for a law firm.
Despite her skills as an employee, Stephanie's entrepreneurial spirit kept kicking in and every few years she would quit the 9-5 gigs and start a business.  Stephanie owned and operated a secretarial support service for solo practitioners, a travel agency and back in the late 70s, even had a business called Candy's Carnal Conversations for a few months!
THE MESSY MIDDLE
Relationship-wise Stephanie rode the roller-coaster of being alone for many years, being in a physically abusive relationship, "dating" a married man and relationships with more than one man with substance abuse issues.  Eventually she healed that area of her life, met an Englishman online in a travel business forum, relocated to England and they were married.
But the fairy tale romance turned into another roller coaster thrill ride when after their 1st year anniversary, her husband's ex-wife had a brain hemorrhage, became permanently disabled and unable to look after her then 10 year old daughter. In a foreign country, under tragic circumstances, Stephanie once again dug deep into her powers of survival and by then, strong spiritual beliefs, and became full-time step-mother to an understandably anguished pre-teen.
Unfortunately things did not proceed very smoothly and during the next 7 years Stephanie went from crisis to crisis: parenting her step-daughter through the tumultuous teen years filled with more than the usual depression and rage, dealing with her husband's 3-year clinical depression (so severe the doctors recommended electro-therapy).  She also  helped her husband and his family through the sudden loss of her sister-in-law  in a motorcycle accident, and helped her step-daughter through the unexpected sudden death of her mother (who had been living in a nursing home, permanently disabled from the brain trauma).
To say Stephanie was stretched beyond her emotional limits was an understatement, but throughout, Stephanie relied on the strong spirit and belief that things could still be better another day.
THE RESURRECTION
In 2004, on her 50th birthday, emotionally and physically exhausted from the challenges in England, Stephanie made the hardest decision of her life and chose to return to the United States, temporarily alone, to heal and regroup.  It was her strong intention to regain her strength and stamina and to reunite with her husband and step-daughter.
Happily in 2005, her step-daughter and husband joined Stephanie and emigrated to Las Vegas where they all decided to have a fresh start. Her husband's depression seemed to disappear almost overnight in his new environment.
But her step-daughter, having left a new boyfriend behind in the UK, was less enthusiastic about the move, and traveled back and forth between the two countries until finally choosing the U.S. in 2007.  On Mother's Day soon thereafter, Stephanie received the best gift EVER, when her step-daughter gave Stephanie the honor of adopting her.
Soon, Stephanie was once again bit by the entrepreneurial bug and retired from her Legal Assistant job to become a Spiritual Life Coach.
About a year later, it became apparent that even more change was in store for the greater good of all, and in 2009 Stephanie and her husband chose to amicably conclude their 13 year marriage.
With no lawyers and maximum good will on all parts they began separate lives, while remaining good friends, and even living in the same neighborhood. Stephanie bought, renovated and moved into her own home and once again, began another chapter of her life, but this time without the wild roller coaster ride!
ALIGNING AND SHINING NOW
Currently and happily, Stephanie uses her vast array of past experiences combined with her intuitive knowing, compassion and a giant transformation toolkit to identify her clients' conflicting beliefs and thought patterns.   With the utmost sensitivity and a playful sense of humor, she helps clients and her online community, re-align with their Greatest Self by creating and integrating new, empowering beliefs and practices so that teach person re-connects to their inherent Brilliance, shines their Inner Light and manifest their heart's desires.
Stephanie also became a best-selling Author of Beautiful At ANY Size:  The Plus Size Womens Guide to Nurturing Confidence & Self-Esteem, and its sister version for women of every size Beautiful at EVERY Size.
An inspiring Speaker and respected Mentor/Coach, Stephanie loves to travel – especially on a 5-star cruise ship, but she always returns home to the bright lights and sunny skies of Las Vegas, Nevada to spoil her adopted Chihuahua, the Lovely Lola Rainbow.